​​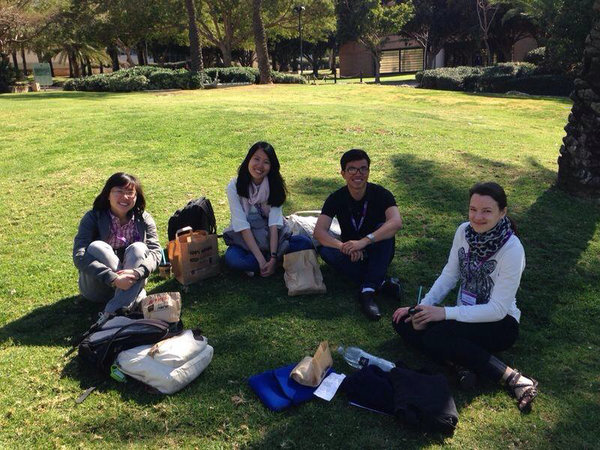 ​​
​
Read about the exchange experience from our students!
​

Rachel Mattes from Cornell University

"I had a great experience studying at Recanati and living in Israel. The semester I spent in Israel was my final semester of business school, and I think I made an excellent choice in coming. I took classes both within the MBA program and the Sofaer iMBA program - I learned a lot in all of my courses and enjoyed meeting with students from all over the world.
​

Pascal Steven Jean from University of St. Gallen

"Recanati, TAU, Tel Aviv…Israel, is an amazing place, an inspiring place. It's all about the people. It's about the passion, energy and openness. At the end of the day in every good business school we will learn the same books, models and concepts but the students and the teachers are making the difference. At TAU I met exceptional people; Locals, exchange students, professors and University staff. I strongly believe that my time in Israel improved my way of thinking, acting and living. Challenge yourself!"
​

Luca Sassatelli from Bocconi University

"I've chosen to apply for Recanati Exchange Program because I wanted to advance my scholar career by learning abroad. Having always lived and studied in Italy, in my own town, I was interested in going somewhere where I could face a different culture, different people, different approaches and ways of doing things, working and studying. I found so much more than expected. Being in Israel was a learning experience that really had an impact on my life."
Stephan Hacker from Goethe University Frankfurt

"The exchange semester at Recanati has been a truly enriching experience. From an academic perspective, I expanded my knowledge and network in the MBA courses of the faculty. For example, the joint Wharton-Recanati course "Lessons from Israeli Innovation" offered interesting insights into reasons for Israel's reputation as the "start-up nation". During the entire exchange program, the support of professors and the international office of Tel Aviv University has always been exceptional. From a personal perspective, I enjoyed the amazing city of Tel Aviv with its fascinating vibe every single day. It is a great place to be!"
Jonathan Gerafi from Copenhagen Business School
"My exchange experience at Recanati Business School was really great! I have nothing but good memories. For me it felt like it was even more than an exchange, because I was not only studying there. In fact, the majority of the time I felt like I was really participating in the Tel Aviv lifestyle."
​

Maria Marantsenboyn from University of Cologne​

"If someone asks me about my best experience during my student days, I would answer without missing a beat: "My semester abroad in Tel Aviv!" I enjoyed the family environment on campus, professors call you by your first names, make jokes and appreciate discussion and single opinions in classes. I am coming from a very big university in Cologne where you are sitting with hundreds of other students in the lecture hall, which makes all that not possible. Furthermore I appreciated the practical character of the lectures including many guest speakers and analysis of real company cases. But what I emphasize most are the open-minded exceptional fellow students from all around the world. I can just say, after the classes were over, we really enjoyed the fact being in Tel Aviv with its amazing beaches, cultural institutions and last but not least its famous night life…"
Jessica Chemla from Rouen Business School


"Everything about the TAU experience was unforgettable. The school, the people, the weather, the food, the whole country and the city of Tel Aviv are simply magical. You never stop having fun. The people are extremely open-minded. There are all kind of places to go out to until the end of the night! You can also travel all around the country and be amazed by the rich landscapes and unique local habits. Best city ever!"
Caroline Sellami from Solvay Brussels School

"It is said that Tel Aviv is the city that never sleeps and this is true! The nightlife is very varied (bars, nightclubs and restaurants day and night). During the day there is also a lot to do: charming neighborhoods like Neve Tzedek, Rothschild or the Namal. The Israelis are helpful and very dynamic. And of course the TAU campus is magnificent."
Niels Braamse from Rotterdam School of Management

"The Recanati School of Business provides international students the opportunity for an amazing exchange experience: A semester of high quality, interesting and varied courses; Amazing parties in a sunny and vibrant city; and a wonderful chance to visit the oldest and most interesting sites in the world. The Israeli country and the way of doing things is in all aspects different, and although sometimes it makes you tired as a European, it's very eye opening and interesting. Also, the different cultures and religions that are present in this country are more than worth discovering"
Marina Kerbel from VU University Amsterdam
"It was my first time studying in Israel and I was amazed by the many and various courses. In addition to that the professors were really good as they managed to combine theory with practice with a great balance. Using cases for relevant theoretical parts made it interesting and a great learning experience."
Jean Minguet from Solvay Brussels School

"My experience at Recanati was truly exciting for many different reasons. First, it was an opportunity to meet young and brilliant students from all over the world and to share with them a part of our education in a leading university. Tel Aviv, as a city contributed a lot to what I got from the exchange program. The city is an oasis of peace in a country full of history for which people struggle continuously. It is definitely one of the most exciting places on earth for young people. Being there is a particular chance to learn, to travel and also to enjoy."