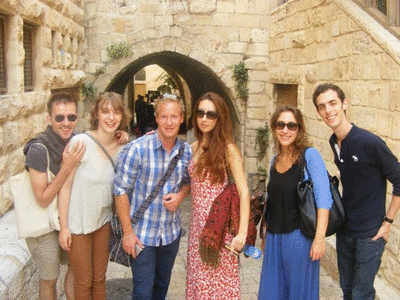 ​​
(exchange program activites)
The exchange program and Tel Aviv University offer social activites for students:
​
The TAU Buddy System
The Buddy System is a project built in collaboration with the Tel Aviv University Student Union especially for our international students. It is a group For students, RUN by students.
The program brings together all of the university's international students and enhances their connection to the city, country and community by connecting them with Israeli students at events held throughout the academic year.
The buddy system will give you the opportunity to meet and build real friendship with Israeli students. The experience will be enhanced by Buddy System activities such as trips, lectures, volunteering, parties and more.
The project is lead by four students volunteering and a team of passionate students who want to meet you and make your TAU experience unforgettable.
​ For more information and photos from previous events, check out their Facebook page: https://www.facebook.com/TAUBuddySystem
You can also email them at: communications@taubuddysystem.com
​
​​​​​(buddy system activites)
The TAU Student Union
The Student Union works to enrich the social and recreational dimensions of student life. It operates three service centers throughout the campus where you can find out information and purchase discounted tickets to theater, recreation and Student Union events.
The Department of Academic Affairs within the Student Union is tasked with with responding to questions and inquiries about academic rights and providing assistance, in the form of renting out text books, tutoring, proofreading and offering other services.
The Student Union organizes a variety of events on campus.
​The Student Union website:
(student union activities)
​