Professor Spotlight - Danny Warshay
Danny Warshay
Visiting Lecturer, Brown University
IMBA Course: The Entrepreneurial Process
​
Danny Warshay has devoted his career to building, managing and harvesting high-growth entrepreneurial ventures. He has built and sold 16 companies acquired by Apple, Medline, Time, Belo Corporation, Sealed Air, and Penton Media.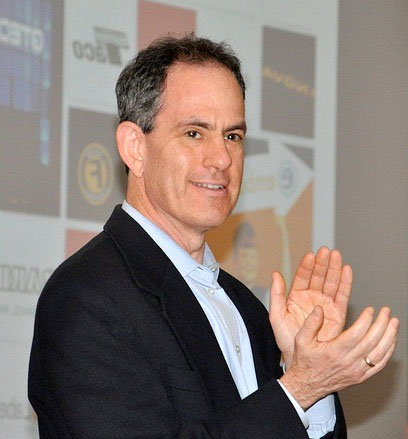 Beyond his own successful startups, he is an internationally recognized expert in teaching entrepreneurship.
For the past ten years, Danny has been an adjunct professor at Brown University where he teaches the award-winning Entrepreneurial Process - a foundation course that he developed in the interdisciplinary Business, Entrepreneurship, and Organizations program. In the Critical Review, Danny's course was recognized as the highest rated course at Brown. Top companies launched from his courses include Runa, Fanium, 305Fitness, Premama and Dear Kate.
Danny has been teaching in the Sofaer International MBA since the program's inception in 2009.
Throughout the world, in other academic, corporate and organizational settings, Danny teaches workshop versions of his Entrepreneurial Process courses. Selected countries include China, Egypt, Portugal, Bahrain, Slovenia, South Africa, Israel, Palestine, Jordan and throughout the United States.
He is also an Entrepreneurial Process coach to multiple fast-growing ventures.
Danny received a B.A. in History, magna cum laude, from Brown University (Junior Year at Hebrew University in Jerusalem), and an MBA from Harvard Business School.
In addition to spending time with his wonderful wife and three terrific children, Danny loves the mental and physical challenges and rewards of vinyasa yoga. He is also an avid (and tortured) Cleveland sports fan.
Further details at: dewventures.com
Danny teaches all over the world, including:
Recanati and Kellogg-Recanati Executive MBA

Brown University Masters Program in Innovation Management and Entrepreneurship (PRIME)

Entrepreneurial Process workshops in other academic institutions:

TMA Executive Training Institute of Cairo

ISCTE Business School of the Instituto Universitário de Lisboa in Lisbon, Portugal

Zhengzhou University of Light Industry in Zhengzhou, China

A series of intensive technology entrepreneurship and commercialization workshops in Shanghai, China at Fudan University, Jiaotong University, Chinese Academy of Sciences, Shanghai University, Shanghai Business School, and Donghua University

Entrepreneurship workshops for the business school faculty at Bahrain Polytechnic
Danny has lead workshops on the Entrepreneurial Process for companies, NGOs and other organizations all over the world, inlcudeing:
Battery Ventures (Israel)

Leaders Palestine (Ramallah, Palestine)

Palestinian Internship Program (Israel)

Core18 Social Entrepreneurship Program (Israel)

British Embassy (Israel)

Delta Dental (USA)

Hinckley, Allen law firm (USA)

Instrumentation Technologies (Slovenia)

Bahrain Institute of Banking and Finance (Bahrain)

Tamkeen economic development agency (Bahrain)

US Embassy (Bahrain)

Fellows training program of Venture For America (USA)
A complete list can be found on Danny's website.