International Academic Conferences
The Coller School of Management has a tradition of holding/co-sponsoring international conferences in core fields of business and management. These conferences enable scholars to keep up to date with advancements in their fields, share works in progress and receive feedback, discuss opportunities for future research and seek partners for collaborations.
The Conference on the Economics of Advertising and Marketing
The Conference on the Economics of Advertising and Marketing, held annually in June, is an a space set for dialogue between economists and marketing scholars for the purposes of discussing advertising phenomena from a dual perspective and sharing research outcomes and methodological advances. Previous conferences were held in Mannheim, Paris, Barcelona, Moscow, and Beijing.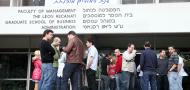 The Marketing in Israel (MII)
The Marketing in Israel (MII) Conference, held annually in December for over 10 years, co-organized and co-hosted by several Israeli universities, this joint initiative is aimed at bringing together marketing scholars from Israel and abroad to discuss topics of interest and future directions in marketing research and keep up to date with ongoing trends in this quickly evolving field. Discussion topics include decision-making processes, consumption patterns and profiles, web platforms and their impact on consumers, cognitive vs. emotional mechanisms underlying consumption.
The Israel Strategy Conference (ISC)
The Israel Strategy Conference (ISC), held annually in December and hosted by Israeli universities on a rotating basis, provides a platform for exchanging ideas in strategic management and related fields (e.g. entrepreneurship and international business). The ISC Best Paper Award, in honor of the late Avi Feigenbaum, is granted at each conference to a paper selected through a rigorous review process, thus offering the scholars taking part an opportunity to present their works for discussion and feedback. Among the issues discussed: competitive strategy, resource development and allocation, strategic alliances and networks, strategy formulation and implementation, and internationalization and multinational corporations.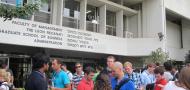 The Israel Organizational Behavior Conference (IOBC)
The Israel Organizational Behavior Conference (IOBC) Held biannually in December/January, this Coller initiative, launched in 2010 – the first international academic conference in organizational behavior held in Israel – focuses on a key feature or phenomenon of modern corporate life and business/workplace environment. The Conference's panels allow participants to study and discuss different aspects of this phenomenon. Each of the conferences notes a scholar for his academic contribution by nominating him/her as the recipient of the IOBC Award for Life Achievement. Topics discussed at the conference include: globalization and multi-cultural settings; hierarchy and power relations at the business/corporate environment; productivity and performance at professional settings; stress and stress management; the dynamics and features of modern professional life; emotional processes and social relations at the workplace.
The Tel Aviv Finance Conference Held annually in December, the Tel Aviv Finance Conference is a platform for considering processes and phenomena relating to the world of finance: capital markets and financial aspects of corporate operations. Conference speakers discuss indicators and models of financial activities, such as funding & liquidity, credit & debt mechanisms and pricing, from different perspectives.
Held annually in June, the Tel Aviv International Conference in Accounting is an opportunity for scholars to discuss classic issues and ongoing trends in the field of accounting – standards and practices; corporate strategies; the impact of market mechanisms and regulation policies; measurement models and performance indicators.