About the Coller School of Management
Our Mission
To stimulate an innovative mindset for venturing out into a rapidly changing world through a synergy of management theory and practice.
Our Vision
To become a global hub for excellence in multidisciplinary research, management and entrepreneurship.
International Rankings
Long and consistently recognized as the leading provider of management education in Israel, the Coller School of Management is steadily climbing up global rankings as well.
Since its establishment in 2008, the rating agency Eduniversal has repeatedly awarded our School the highest rating – the coveted "5 Palmes of Excellence" – in recognition of its "strong global influence." The 5-Palme rating is awarded to just 100 schools worldwide, including Harvard Business School, London Business School, and INSEAD.
We have also received top ranking from Pitchbook, a Seattle-based rating agency for the global private equity and venture capital markets, which has placed our MBA program 13th and 14th (male/female respectively) in the world in venture capital raised by alumni founders. Such a ratings places the Coller School of Management ahead of such leading schools as Yale University, Duke University, University of Texas, and many others.
Quick Facts
Established
in 1966 as the Leon Recanati Graduate School of Business Administration
Students
About 3,000 students from a wide range of academic backgrounds
Faculty
60 full-time faculty and 200 adjunct lecturers from the highest echelons of industry
Exchange Partners
A semester-abroad program in partnership with 100 top management schools around the world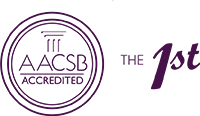 ​
Accreditation
The first in Israel to be awarded the international accreditation of AACSB (the Association to Advance Collegiate Schools of Business), the highest standard of achievement for business schools worldwide
Alumni
With over 35,000 alumni, the School has the largest alumni network in Israel, with an overriding presence in Israel's top management positions